Good Morning!
How are you doing the Christmas preparations? Yes, we have already fully entered the month of lights, cold, Christmas carols and gifts! Santa Claus, Tió, the Three Kings or the Olentzero (depending on each house) are just around the corner. They are very intense days and the illusion that makes us live them for the first time with our babies makes us sometimes buy gifts without thinking. This can cause overstimulation for our children, as well as wiping out items that are likely to end up in a corner.
There are studies that show that children receive Christmas ten times more gifts than they need. And, as we said before, many end up cornered and end up playing with the usual toys. Or perhaps creating their own toys with cardboard boxes and cardboard found at home? Long live creativity!
Imagine this conversation:
What are you going to ask Santa Claus for?
…I dont know…
What do you think could have happened? That with so much toy, children lose the illusion. With so much encouragement, apathy comes. Try that day never comes. Christmas is not just about giving away toys. They see much more than we do at this party: Christmas carols, the shops decorated with stars and shiny balls, the lights, family gatherings, vacations where they can walk and play all day.
That is why we want to help you choose gifts with heads and not impulsively. Has it ever happened to you that you buy a toy that seems very unique and super fashionable and your son has ignored it? No way! And not only that, but it has also cost you good money ... That is why it is important to ask yourself several questions before choosing THE GIFT. Yes, in capital letters, because if you follow the points that we are going to describe below, it will be a gift!
Hence the reason for this rule of 4 gifts
The rule of 4 gifts:
Until 3 years (approximately) children do not choose what to order for Christmas. Those are the years when they want what they see in the moment and do not ask for anything concrete. They are not materialistic, in fact they already have what they want most: their family! Those who take care of them and pamper them 😉
So, during these first years it is good that we focus on these four points when choosing your gifts. In this way, we are also helping them so that when the time comes to ask, they do not become compulsive and decide what really makes them excited.
Respecting this rule is very simple, it is about making 4 gifts that meet these points:
Something to wear

(clothing, footwear, accessories, etc.)
So when they wear that they will feel special. It is the clothes that Santa Claus gave them! It could be pajamas, a special dress, a super modern jacket, something different!
As a suggestion: The sets of Clic mini, Fresk, Bounjour Bebe, Limo basics and Barts They are ideal to be comfortable and caletitos this winter
Something to read or related to reading

If they are very small, books that mom and dad can read to them. So you are also giving them time with you. And that is priceless
As a suggestion: I'm sure you know Sophie the giraffe. This little girl has fallen in love with more than a little boy for her touch and for being so nibbled 😉 Well, this year her adventures have also come to us in the form of books. Books with flaps for the kids to play to open and close them, with colors that stimulate them, with sounds, etc.
Something they really want
What does your little one like the most? What stimulates and motivates you? It is important that when choosing a gift for the baby / child you take into account its use. The best gifts are not always the most expensive or fashionable. In fact, The best gifts for the little ones are those that bring them benefits and stimulate their development.
As a suggestion: In our store you can find toys that meet these requirements, such as equilibrium table: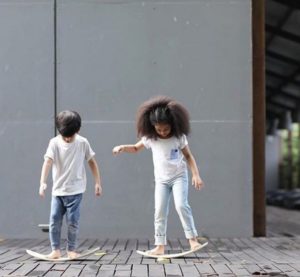 Or the toys of Plan Toys:
At this point, it is best to think about the baby's age and where he is at. For example:
 Is complementary feeding going to start? A dish, the you will spoon or the silicone cups for Baby Led Weaning.
We hope this post is useful to you and above all, if you feel lost, consult with professionals so that we can advise you 😉
It's going to be a great Christmas!